Disks in two of our servers failed last week. One was covered by warranty, the other by a HP Care Pack (Next Business Day). In both cases, I reported the failure last Friday and replacement disks were promptly dispatched by the distributor and HP, respectively.
As of Wednesday evening, they have not arrived.
Yes, we're in the last frenzy of the Christmas shopping rush, but what UPS is reporting on their tracking webpage is simply an outrage.
On monday morning, their tracking page reported the packet as
VIENNA, AT 	21.12.2009  	8:10  	IMPORTSCAN 
and "on track to delivery today".
No delivery attempt was made on Monday.
Tuesday's action reads
VIENNA, AT  	22/12/2009  	17:56  	THE RECEIVER IS ON A HOLIDAY. 
           DELIVERY WILL BE ATTEMPTED WHEN THE RECEIVER RETURNS 
I was not on vacation. Co-workers were in the office until 18:30. No delivery attempts were noticed.
Wednesday's UPS log shows:
VIENNA, AT  	23/12/2009  	17:08  	THE RECEIVER IS ON VACATION. 
           DELIVERY WILL BE ATTEMPTED WHEN THE RECEIVER RETURNS
	23/12/2009 	5:19 	OUT FOR DELIVERY
	23/12/2009 	2:00 	IMPORT SCAN  
Today I was on vacation, but dropped by at the office around 17:00 and there were three collegues present. No UPS delivery guy, though.
So, this looks like someone is simply making things up to cover up that they could not keep their SLA.
A disgrace.
At this point I have to add that our local Federal Post office has improved their customer service noticeably. Whereas I used to leave the Treustraße office angered by their slowness, the last three times they were actually helpful and tried to avoid unnecessary waiting times.
Update:
After a complaint by phone to UPS the disks finally made it to our office on December 30th.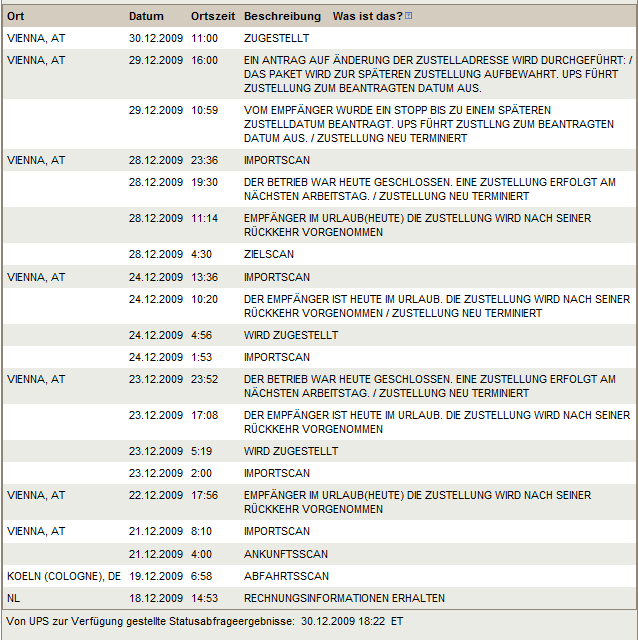 The only working day where the office really wasn't manned was December 24th. The rest of the entries were simply pulled out of the a** of an overloaded delivery guy.