An intern working for facebook created a beautilful map based on the relationship graph of facebook users.
So far, so widely blogged about.
One thing is remarkable: you can still see the border between the old west- and east part of Germany: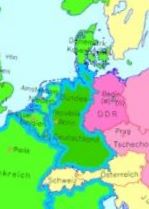 vs.
I wonder whether this is just the result of more people per square mile in the west, or if this one effect of still differing infrastructure or social structures.