I recently upgraded from the old Nokia Suite to the Ovi-branded version. In other word, I replaced one piece of sh***y bloatware with another.
But one thing is interesting: When using USB-based tethering, I get the following notice: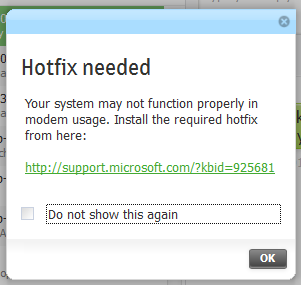 Well, if they think it makes the bloatware work better, ok. Then I took a closer look:
Article ID: 925681 – Last Review: December 8, 2009 – Revision: 3.0

When you try to download a file from the Internet by using Windows Internet Explorer in a Windows operating system, the download stops responding and then times out. The problem occurs when you use a USB modem that has a data transfer speed that is faster than or equal to 240 kilobits per second (Kbps).
Just look at that date. Microsoft found a problem that affects a good part of their customers (USB-based 3G modems are quite common these days), managed to cook up a solution, and seven months later it still wasn't folded into the monthly updates and is still sold as a "hotfix".
Sorry, this fix isn't "hot" any more. It's cold and very much over-due.